Welcome to Lysenko Law!
0. Policies and Procedures re Covid.CURRENTjune16
Lilina Lysenko
Barrister, Solicitor & Notary Public
Lilina grew up in Fernie, B.C., and currently lives in the Rossland / Trail area with her husband and two children. Lilina attended the University of British Columbia for both her undergraduate and law degrees, and graduated from UBC Law in 2006. After completing her articles in Trail, B.C., she was called to the Bar in British Columbia in 2007. Lilina worked with local law firms until starting her own practice, Lysenko Law, in 2012. During her articles, and since she was called, Lilina has focused on Real Estate, Small Business, Estate Planning and Environmental Law. Lilina provides advice to clients around the province both in-person, and remotely.
Lilina is also a lawyer with West Coast Environmental Law's Environmental Dispute Resolution Fund. More information can be viewed here. http://wcel.org/about-us
Maansi Dhir
Barrister, Solicitor & Notary Public
Maansi was called to the Ontario Bar in 2019, and moved to Rossland from London, Ontario in January 2020, where she was called to the BC Bar. Maansi obtained her bachelor of science degree from Western University before continuing on to complete her bachelor of laws at the University of Kent in Canterberry, England, and her masters of laws in international crime and justice in Turin, Italy. Maansi practices Estate and Probate Law, Civil Litigation, and has an interest in Immigration and Criminal Law.
Emily MacKinnon
Law Student
Emily hails from a long-time Kootenay family, and grew up between Castlegar and Nelson. A graduate from Stanley Humphries Secondary School, she obtained her bachelors degree in Political Science and Communications from the University of Ottawa before completing her law degree at the University of Victoria. Emily hopes to begin her articles with Lysenko Law this summer, and has an interest in Family Law.
Vien Seneyavong
Senior Paralegal / Conveyancer
Vien Seneyavong has been in the real estate field since 2000 in various capacities such as legal assistant, paralegal, conveyancer, real estate broker, lease administrator and land management.  Vien was raised in Castlegar and moved to Vancouver for 10 years before returning home in 2009.  She enjoys tennis, golf, hiking and travelling in her spare time.  Lysenko Law is pleased to have Vien as part of their team to assist in providing exceptional real estate services to our clients.
Elaine Seto
Office Manager / Legal Assistant
Elaine joined Lysenko Law in 2017 and quickly became indispensable. She comes from Alberta with 20 years experience in the administrative field, and is involved in the day to day operations of client files. Elaine is an avid golfer, essential oil enthusiast, and fitness guru.
Kayla Johnson
Reception / Bookkeeper
Kayla grew up in Rossland and (re)joined Lysenko Law in May, 2020. Kayla has competed in many body building competitions and brings the same dedication and focus to the office.
Office Dogs
Sassafras (Sassa / Sassy)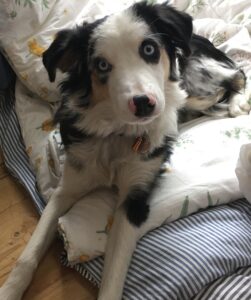 Sassafras is a border collie x mini Australian shepherd who joined our family as a puppy in June 2019. She spends her days at the the office providing clients and staff with stress- relief and cuteness.
Spoon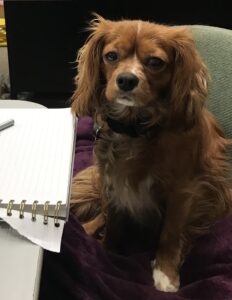 Spoon is a Cavalier King Charles Spaniel who delights in sitting on clients' laps, and providing insight on documents from the comfort of her very own office chair. When she's not at the office, Spoon enjoys napping with her human, Emily.